Many hands make light work, and we truly need the donation of your time and talent to accomplish our goal of providing a well-rounded, rich learning experience. Thank you for your role in making everything from our regular school days to grand festivals amazing. We couldn't do it without you!
Christmas Caroling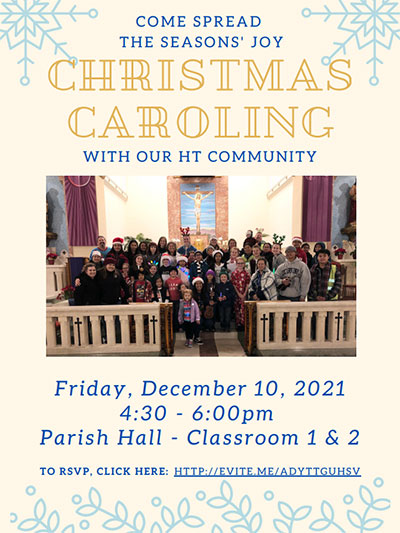 Community Clean-Up Days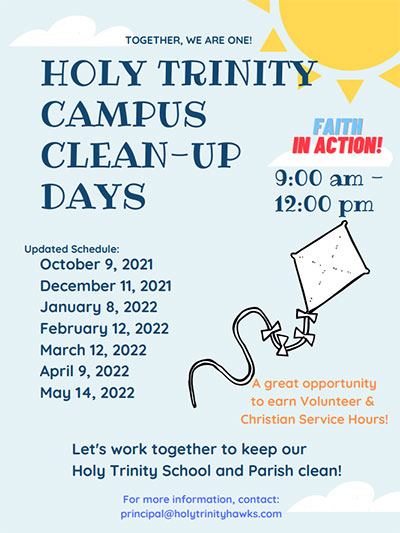 Together, we are one! We have updated our Holy Trinity campus clean-up day schedule for this current school year. Please join us from 9:00 a.m. to noon on the following days:
October 9, 2021
December 11, 2021
January 8, 2022
February 12, 2022
March 12, 2022
April 9, 2022
May 14, 2022
This is a great opportunity to earn volunteer and Christian service hours. Let's work together to keep our Holy Trinity School and Parish clean! For more information, please contact our school principal by email.
Family Participation Policy
As stated on the Parent Agreement for School Enrollment, we request that all families give 30 hours of school service as well as an additional 12 volunteer hours for Jamboree. You must record your volunteer hours via Gradelink to receive credit.
Protecting Our Children
We have no higher responsibility than to protect the children and young people in our care. As such, every parent and volunteer must complete and provide evidence of the following:
Learn more about the policies and programs we have in place to safeguard our children by visiting the Safe in Our Diocese website.
Service Hours Examples
There's a multitude of ways you can serve; here are just a few: lunch duty, fundraiser chairperson, Snack Shack coordinator, Snack Shack worker, health office or workroom volunteer, room parent, sports coach, book fair volunteer, and Faith in Action representative. If you have ideas about how you can best contribute, please let us know.
Parent Drivers
Every driver must provide evidence of an up-to-date insurance policy and a current driver's license. You will need to plan well in advance of the scheduled trip to submit this information and receive clearance by our school office.