The Value of Now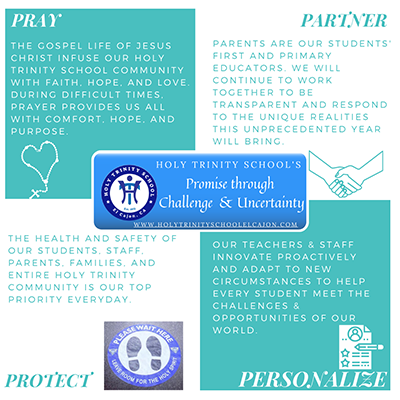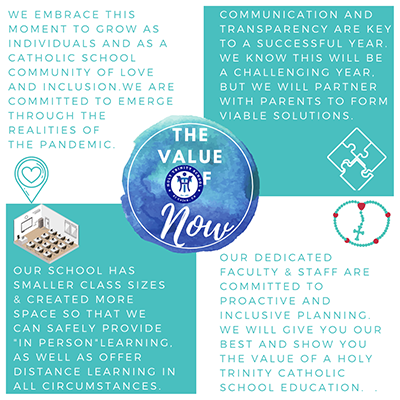 8th Grade Class of 2020 Hawk Spotlights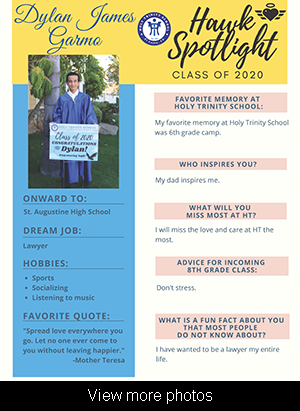 We would like to recognize and celebrate our wonderful 8th grade class of 2020 with their own "Hawk Spotlight" features. Our principal Mrs. Marentez, will be featuring a few of these spotlights until the last day of school! We are so proud of all of their accomplishments! Keep soaring high!
8th Grade Virtual Awards Presentation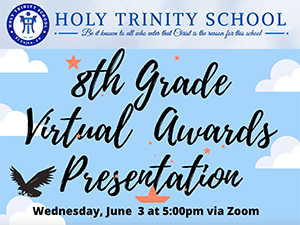 Although we have been unable to gather due to the Covid-19 pandemic, Holy Trinity School has still found ways to celebrate our school community, especially our 8th grade graduating class of 2020.
We premiered our 8th grade virtual awards presentation live to our school community, and it is now available for you to view. The video is a collection of virtual editions of special end-of-the-year traditions that we partake in to celebrate our graduates. It includes the 8th grade virtual awards presentation "Through the Years", narrated by the 8th grade class, and special farewell messages to the graduates from our Holy Trinity faculty and staff. Please take a moment to watch!
Virtual Dance and High School Reveal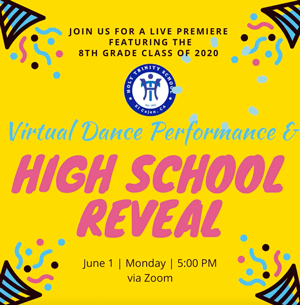 Join us for a special live premiere featuring our wonderful eighth grade class of 2020 showcasing a virtual dance performance and high school reveal. The reveal is Monday, June 1 at 5:00 p.m. on Zoom. Hope to see you there!
Holy Trinity School Featured on KUSI's Good Morning, San Diego
Recently, KUSI's Good Morning, San Diego, featured a story about Holy Trinity School and staff congratulating 8th-grade students with a special graduation celebration. We invite you to view this special viewing from May 18, 2020.
Weekly Learning Plans
Thank you for your patience, understanding, and support as we transition our school into temporary distance learning. Please check back often for updated weekly learning plans.
Virtual Talent Show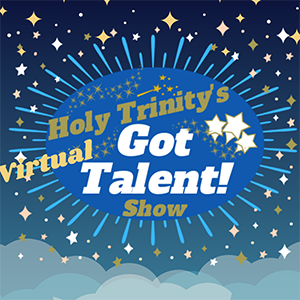 Although we may be apart during this pandemic, we will continue to find creative ways to stay connected. We invite you to enjoy a virtual edition of the Holy Trinity's Got Talent Show!
Yearbook Signing* - Socially Distanced Edition
We are excited to announce that the Holy Trinity School's yearbook signing tradition is alive, and it is fully digital to suit our socially distanced students.
Jostens has just launched a new platform, Yearbook Digital Signing Pages, that gives every student in our school the chance to create virtual signing pages, invite their friends to leave messages, and print out the final pages to keep with the yearbook as a permanent keepsake.This is free for every student whether they purchased a yearbook or not.
*The signing website requires that users are 13 years of age or older. This requirement is included in the terms and conditions when a new user registers. As such, for our junior high and elementary schools, we encourage parents to set up and administer the site for their students.
Please see our digital yearbook signing flyer for more information.
Daily Attendance Forms
Under the direction of the Diocese of San Diego Office for Schools, we need to take student attendance daily during distance learning due to the COVID-19 pandemic. Students (or their parents/guardians) must submit an attendance form by 8:00 p.m. each night Monday through Friday. Please see our daily attendance form document for your child/children's specific grade.
2020–2021 Re-Open Letter
Dear Catholic School Families,
As a fellow Catholic school parent, I know the last seven weeks have been difficult. This is hardly the way any of us envisioned the school year when it began last summer. Thank you for your faith in our Catholic school communities, and thank you for enduring the hard work and frustration I'm sure you've experienced adding "teacher" to your list of jobs. I hope you and your family are in good health as we finally begin seeing the end of the coronavirus tunnel.
This week is "Teacher Appreciation Week" whereby we traditionally recognize the hundreds of committed Catholic school teachers and staff who serve the diocese with hard work, care, and dedication to our children. This year it is only fitting to include all of our Catholic school parents in that recognition, as well. Thank you!
Please read the entire letter from Director Galvan detailing information on the plans to re-open for the 2020–2021 school year.
We encourage you to complete the parent survey from the letter to share your voice/concerns about the reopening of Catholic schools in our Diocese of San Diego.
Disciples of Christ - Virtual Recognition
Although we are unable to gather at this time, we would still like to recognize the Disciples of Christ virtually for the remainder of the school year. Mrs. Marentez will email an electronic copy of individual certificates as well as a link to the special recognition from each homeroom teacher. Please view the latest virtual recognition below:
Congratulations, Hawks! Keep soaring high!
Teacher Appreciation Week - Drive-Thru Hello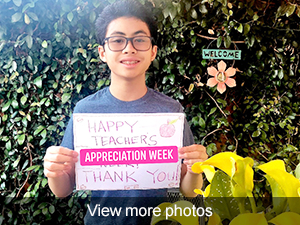 Please join us for a drive-thru hello on Friday, May 8, 2020, from noon until 1:00 p.m. Come by the back HT parking lot for a wave and a smile with our dedicated Holy Trinity School educators. We invite you to check out our drive-thru hello flyer for more information.
School Closure Parent Letter April 27, 2020
Blessings to you and to your families during this most unique Easter season. Every one of us is impacted by the measures intended to protect us from COVID-19. Our hearts go out to those families and individuals dealing with the loss of loved ones or facing devastating financial repercussions. It is during times like these that we are called to rely on our faith more than ever. The Resurrection comes at a good time.
None of us could have scripted the events that have unfolded over the past months. Instead of field trips, open houses, and spring sports, we have been navigating distance learning with our children. Under the current conditions, our Catholic school communities have stepped up in incredible ways. Our principals and teachers continue to make our children's learning and faith formation a priority. We are grateful to the thousands of parents who are with us in companioning their children on this journey because of their commitment to Catholic education. Our students have risen to the challenge, and they continue to be engaged and on task. Throughout this crisis, our Catholic schools have been a bright light shining as a testament of faith, excellence, and community. I, for one, have never been more proud to be a Catholic than I am today.
While we would all love to return to on-site instruction in May, we are preparing campuses to remain closed through the remainder of the school year. We take this approach with the health and safety of our students and teachers as a primary consideration of paramount importance. If, however, our public health officials deem it safe to return sooner, we will certainly adjust our course. Our continuing efforts to implement distance learning are based on a profound commitment to ensure that your children are enabled to achieve academically and to grow in their faith. Additionally, our offices will assist our schools as necessary in meaningful (albeit, creative) ways to honor our students in their ceremonial end-of-year events. I promise to keep you updated as these conditions are subject to change.
Please take a moment to read Director of the Office for Schools Diocese of San Diego John Galvan's complete school closure letter for the latest updates.
Tuesday Turn-In Work Day
If your child has completed work that needs to be graded, there will be an opportunity to turn-in work from 8:00 a.m. to noon at the front of the school. Please follow the procedures on our Tuesday work day flyer to help ensure the health and safety of our school community.
Park your vehicle in a designated parking spot.
Send one family member from your vehicle to turn-in work to the appropriate grade level bins with your child's grade and teacher name. (Please use hand sanitizer before and after.)
Please make sure bin is closed.
***Please practice appropriate social distancing.***
If there is someone there before you, please wait at least six feet until the person before you is finished turning in their work.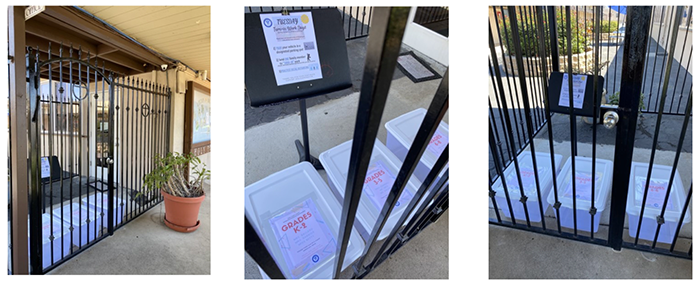 Virtual Talent Show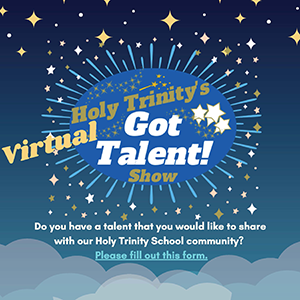 Do you have a talent that you would like to share with our Holy Trinity School community? We encourage you to sign up. After you have received confirmation and approval from Mrs. Marentez, please submit a recorded video of your talent act by May 10. Let's see those talents!
Happy Easter from Holy Trinity School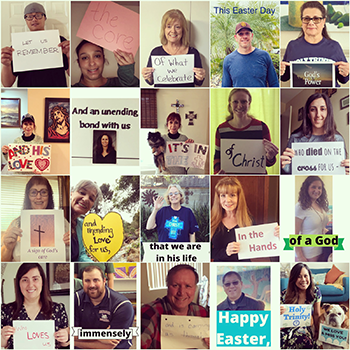 We would like to wish you a very happy and blessed Easter! The collage displays a special message from Bishop McElroy's homily at today's Easter Liturgy. This is the message we displayed:
"Let us remember the core of what we celebrate this Easter day - God's power, and His love and unending bond with us. It's in the resurrection of Christ who died on the cross for us - a sign of God's care and unending love for us, that we are in this life in the hands of a God who loves us immensely and is carrying us through."
Happy Easter, Holy Trinity! We love and miss you!
Thank you for your continued support! Wishing you a relaxing Easter break! We are all in this together and God will see us through!
Blessings and Love,
Mrs. Marentez
Parent Check-In Survey on Distance Learning
Please complete our parent survey so we can receive feedback on our distance learning process so far. Our goal is to provide your child/ren with support and a quality learning experience during this time!
Classroom Book/Materials Pick-Up
As mentioned in Mrs. Marentez's latest parent letter regarding distance learning, we have three days scheduled this week to pick-up any books/materials from your homeroom teachers. In an effort to abide by social distancing orders, we will set up two separate pick-up areas at the front of the school campus. Please refer to the flyers below for more details of the set-up and procedures.
In addition, to save you another trip to school, our "turn-in" work bins will be out and available for anyone to drop off work on these days as well.
As a reminder, our goal is to reduce the frequency of trips to school to pick up and drop off work/assignments and take more advantage of all the features of Google Classroom, such as assigning and submitting work online and remotely. Your teachers will communicate with you if your child needs to pick up any materials. Please do not come to campus if your teacher has not contacted you to do so. As previously mentioned, our main priority is to keep our entire school community safe and healthy during this pandemic. If you are unable to come to school on your scheduled day, please notify your teachers ahead of time so that we can plan accordingly.
Sign-Up to Lead a Monday Morning Assembly
If you are interested in helping Mrs. Marentez lead our Monday morning assemblies remotely, please sign up for one of the dates and slots to lead.
We will need a student to lead us in each of the following:
Pledge of Allegiance
Prayer
SLEs
Mission Statement
Mrs. Marentez will then recognize the birthdays for the week, and we will sing Happy Birthday together. Once you have signed up for a date and part to lead, Mrs. Marentez will email you with the next steps.
We included all the Mondays for the rest of the school year because we have not received an update on the end date of this temporary school closure from Bishop McElroy and the Office for Schools yet. As soon as we get a more definite date of when school will resume, the students that have signed up for those dates and parts will still be the ones that will lead our school community in those Monday-morning assemblies.
Thank you for taking an active part in our Holy Trinity School community during this temporary distance learning. We are all in this together!
Gratefully,
Mrs. Marentez
Mrs. Marentez Invites You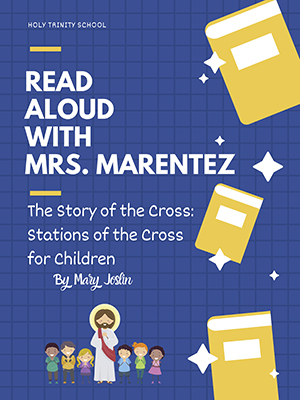 Mrs. Marentez invites you to join her for a Lenten read-aloud of The Story of the Cross. Praying the Stations of the Cross, alone or with a group, is a Lenten tradition and a special devotional prayer to help us recall the tremendous love of Jesus Christ as He suffered and died for our salvation.
How You Can Help
Gratefully, many of you have reached out inquiring how you can help our school during this difficult time. Here are some ways:
Pray and join us in our Holy Trinity community faith opportunities.
Continue to fulfill your tuition commitment to help our Catholic school.
Participating in the ShopWithScrip program while school is closed is as easy as one, two, three! Check out how, by viewing the online tutorial prepared by Theresa Sweetman.
Stay connected and updated by visiting our school website regularly.
If you follow us on our social media school accounts, please share our posts with your family and friends to help promote our school
Participate in virtual opportunities provided by our school.
Connect with your fellow Holy Trinity School families and check-in with each other.
Communicate with us. We value your feedback. Whether you want to share positive remarks or have questions and concerns, please do not hesitate to reach out to us. You are not alone. We are all in this together!
Positive Distance Learning Feedback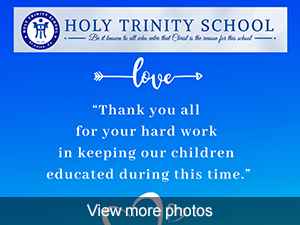 We are so thankful for the strong and resilient school community that has supported us from day one of our transition into distance learning. We are so grateful for all the positive and encouraging feedback we have been receiving from our amazing parents and families. We are all in this together and God will see us through this difficult time!
Online Netiquette
Now that all classes are actively on Google Classroom and becoming more familiar with this educational tool and its features, teachers and students will be getting used to a new normal of connecting and receiving information. We ask for your support in helping us remind the students of appropriate "netiquette," and how to practice good online manners when commenting or posting online. When communicating on Google Classroom or through email correspondence, students are strongly encouraged to use the same appropriate school language they would use as if in-person with teachers on the school campus.
Tuition Commitments
You know firsthand that our Catholic schools are a gift to our Church and to our world, but where we stand today, the question of tuition is a real challenge for some families. With work hours either reduced, jobs eliminated or people furloughed, families are making difficult financial decisions. As you hit the reset on your household budget priorities, please remember that our Catholic schools are dependent upon tuition. In addition to maintaining general operations, tuition supports teacher/staff salaries and quality academic programming, including integrated faith formation. I ask that you continue to support your Catholic school with your tuition commitment. Your Catholic schools are here to support you and your children. Please work with your pastor and principal if the challenges of today become too much. It is our hope that the impending federal economic stimulus package will assist each of us in this commitment. As Church and as a global family, we are in this together.
Please read Director of the Office for Schools Diocese of San Diego John Galvan's complete letter to parents regarding tuition commitments.
Virtual Spirit Week
Get ready to show your Hawk PRIDE and school spirit! Join us as we celebrate Holy Trinity School Virtual Spirit Week.
March 30 - "Marvelous" Monday - Dress up as your favorite superhero
March 31 - "Twin" Tuesday - Coordinate a matching outfit with your best friend!
April 1 - "Wacky" Hair Wednesday - Style your hair in a "wacky" way!
April 2 - "Spirit Wear" Thursday - Show your Hawk PRIDE with your favorite spirit wear!
April 3 - "Fanatic" Friday - Sport your favorite team jersey!
Show your school spirit from home. Share/post pictures daily and spread joy. For more information, please view our flyer. #HolyTrinityHawks #HawkPride
Check out this video of our first virtual spirit week. Thank you to all for participating. Keep soaring high, Holy Trinity Hawks!
Virtual Gratitude Wall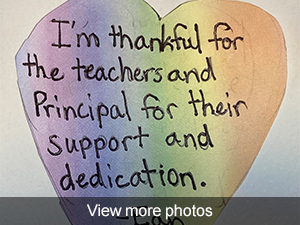 We started a virtual gratitude wall for our Holy Trinity School community as an opportunity for us to share our blessings. We encourage everyone to focus on gratitude to help us get through these difficult times.
Here's how you can help our virtual gratitude wall grow:
Write what you are grateful for on a Post-it note.
Take a picture of your Post-it note.
Share your blessings. Send it to our principal or post it on social media and tag us!
Virtual Send-Off Prayer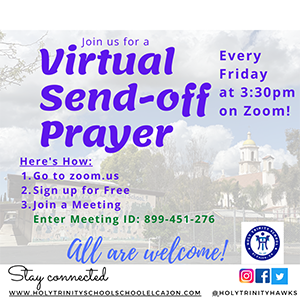 Please join us every Friday at 3:30 p.m. for a virtual send-off prayer with our Holy Trinity School community. All are welcome!
Here is how you can join:
Sign-up for free
Join a meeting
Enter meeting ID: 899-451-276
Email Mrs. Marentez if you need further assistance or have any questions. Hope to see you there!
Virtual Prayer
Singing the Prayer of St. Francis is one of our school community's favorite weekly traditions. Since we are unable to gather together during this temporary school closure due to the COVID-19 pandemic, this virtual prayer was created so that all of us can sing along with each other no matter where we are!
Please continue to join our school community in a remote rosary daily. We will get through this together, Hawks! #hawkstrong